Why you should Pick Bibbentuckers as your Cleaners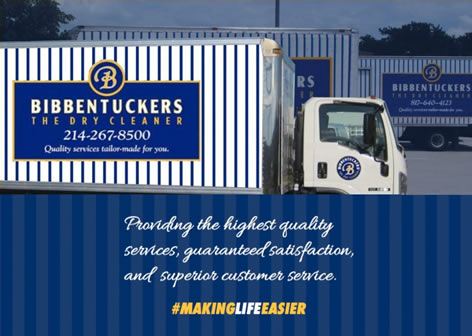 The Primary Reason to bring your Dry Cleaning to Bibbentuckers the Dry Cleaners is the fact that everyone is saying that we are the BEST DRY CLEANERS IN DALLAS, FRISCO, PLANO & SOUTHLAKE. 
Finding a really good dry cleaner like Bibbentuckers in your area will, in the long run, save you money.  A top-rated cleaners is one of your best investments because they will keep your clothes looking good far-longer. Good quality clothes are expensive and they need to last as long as possible by cleaning them correctly each time.  When you find a reliable cleaner that offers excellent quality dry cleaning and laundry, you've found a company that will help in the preservation of your wardrobe.
Before you settle on the Cleaners that will be your dry cleaner of choice — like Bibbentuckers — you should start by asking these nine questions:
(1) Where does the actual cleaning occur?
Dry cleaners in the United States are classified into two categories: Cleaners with a remote dry cleaning plant or Cleaners that do the cleaning at their location.
A Cleaners without a cleaning plant is just a place to drop-off clothes that need cleaning. Once received, the clothing goes to another location for cleaning. When selecting a Cleaners that sends its clothes to another location for cleaning, ask how many cleaners send their cleaning to the same central plant. Large plants like to control costs, increase efficiency, and turn things around as quickly as possible. Moreover, these cleaners often do not provide personalized attention and customers don't get the best results and quality cleaning for their money.
The Cleaners who own their own equipment and do the cleaning on-site tend to have personnel who can answer questions about fabrics; can honor cleaning requests, and finally listen to their customer's clothing concerns.
Note that Bibbentuckers conducts cleaning in four of its six stores. All clothing is barcoded for tracking purposes and the two drop-off stores send their cleaning to a close-by Bibbentuckers facility that will clean the clothes with excellence. Bibbentuckers does not outsource their laundry and dry cleaning.
(2) What types of dry cleaning chemicals does the cleaner use?
There are several different kinds of chemicals and techniques that are used to clean clothing. Some dry cleaners use more environmentally safe chemicals than others. Some dry cleaners use their cleaning fluids over and over again, which means dirt from the previous batch can be placed on succeeding clothing. Customers should ask a cleaner if they use new and purified cleaning compounds with each new batch of clothes cleaned.
Bibbentuckers uses fresh chemicals with every run
(3) What type of equipment does the dry cleaning company use for pressing?
The clothing that needs pressing can be done by hand or by a machine. The easiest method is to simply blow hot steam through a garment to remove large wrinkles. The force of the steam referred to as machine pressing can be rough on clothing and cause garments to lose their shape. Machine pressing will not create crisp edges and seams where desired in desired clothing.
Ironing by hand takes more time, but provides the best results for delicate fabrics, especially those with beading or sequins.
Bibbentuckers will hand iron garments that need extra care to look better
(4) Does the Cleaners have the policy to address clothing that becomes damaged during the cleaning process?
Unfortunately, all dry cleaners at one time or another make a mistake. With humans, things happen. However, customers should ask a perspective cleaners about responsibility for damaged, soiled, lost, or clothing returned. Knowing who to talk with and how to submit claims is important. A reputable cleaner should provide outstanding Customer Service and if needed, compensate the customer for the value of the item.
Bibbentuckers the Dry Cleaners accepts responsibility and will compensate for any damage that we cause or any lost items as well.
(5) What are the costs for dry cleaning and laundry?
Customers should know the costs of cleaning clothes in advance. Customers should know the cleaning costs for a dress, suit, slacks, and a sweater. How is laundry priced — by the pound or item?
Bibbentuckers is always happy to price any item at drop-off. You can also get our price list at any of our locations or by texting us at 214-234-2695.
.
(6) Is pick-up and delivery offered at Bibbentuckers?
Some Cleaners charge for pick-up and delivery. Customers should ask in advance about Pick-up and delivery services. Will the cleaner's schedule be flexible enough to integrate with the customer's work and home schedule?
(7) What recommendations exist for the cleaners
Good and bad news travels fast. Customers should ask their friends about what dry cleaners they use. Friends, neighbors, and business associates can help avoid the pitfalls of choosing the wrong dry cleaning company. If a person advises that he or she has had a bad experience with a dry cleaner, that's a good reason to keep looking. Another way to find a good dry cleaning company is to read the internet for online reviews and local consumer protection bureaus for recommendations.
When looking for a cleaners, ask about the prices. Bibbentuckers' prices stay the same and that is not always the situation with our competitors.
You will see that Bibbentuckers has a great reputation for excellence. Did you know we also take back and recycle hangers and the plastic wrap that your clothing is protected with after cleaning?
(8) Does the Cleaners have Professional Certifications and Affiliations like Bibbentuckers?
Before you drop-off your favorite suit and pants to the dry cleaners, customers should ask if there is a certified professional dry cleaner on staff. Ask the manager and obtain all the information needed to satisfy your questions about how they clean clothing.
There are professional environmental certifications for dry cleaning and laundry. These certifications identify dry cleaners that employ experienced professionals who know the laundry business. Knowing that a cleaner is certified will add trust that clothing is properly being cleaned. Being a member of a professional organization also adds trust as many organizations offer ongoing training for employees to excel in their jobs.
Bibbentuckers has certified professionals in each one of our stores and we are affiliated with the Dry Cleaning & Laundry Institute.
(9) Does the Cleaners in Question have Employee Professionalism
When you enter the cleaner, is the person behind the counter helpful? A good employee will carefully inspect the clothing and ask about stains and special care.
Questions about fabrics always seem to be at the forefront. Customers should ask if there is a person in the cleaners who can provide advice on certain fabrics and correctly interpret the codes on the clothing tag.
Finally, the customer has certain responsibilities as well in order to obtain quality cleaning results from a cleaner. Upon noticing a stain on a piece of clothing, it should be brought to the Cleaners as soon as possible. Customers should take time to point out stains, dirt, and grime and identify them to our the cleaner's staff
Bibbentuckers has fabric care professionals at each one of our locations.
Bibbentuckers has fabric care professionals at each one of our locations.
Healthcare Plan Info
This link leads to the machine-readable files that are made available in response to the federal Transparency in Coverage Rule and includes negotiated service rates and out of network allowed amounts between health plans and healthcare providers.  The machine readable files are formatted to allow researchers, regulators and application developers to more easily access and analyze data.
https://www.cigna.com/legal/compliance/machine-readable-files