Fine Linens and Bedding Cleaning Dallas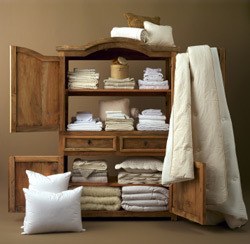 Bring us your hard to clean bedding items such as linens, duvets, bedspreads, comforters, blankets, and quilts. Our trained staff will inspect each item for signs of damage that are common in bedroom items. We use environmentally friendly dry cleaning or laundry products, and therefore, with the best care available, you can extend the life of your high-quality bedding and linens. We have the most sophisticated facilities and equipment in the Dallas area for cleaning bedding items and maintaining bedding's freshness and appearance.
From Battenburg lace to fine embroidery, we take the extra care to clean these delicate pieces. Additionally, Bibbentuckers will clean linen fabric and bedding with the same gentle touch and attention to detail.
Everyone likes to keep their home as clean and attractive as possible. People like to wash their quilts, comforters, and blankets through their washing machine or the laundromat (because of larger machines). It's good to wash bedding on a regular basis to keep them clean with fewer dust mites, skin and dirt.
Research has provided evidence showing that dry cleaning actually is a better option for household bedding items. The Following are four reasons why homeowners should consider using the services of a professional dry cleaner like Bibbentuckers.
Dry Cleaning will makes Quilts and Comforters  Look Better
Bedding is not just for keeping one warm when sleeping, it's also an essential part of the bedrooms décor. When bedding is washed in a washing machine and then tumbled dry for an hour or more in a hot dryer, the fabric is weakened and this leads to the development of rips, tears, holes, and snags as well as fading and other discoloration. The spin cycle in the washing machine also stretches bedding and results in the bedding not fitting the bed properly. Dry cleaned bedding retains its new appearance for far longer than machine washing and drying. Please note that comforters and quilts often contain velvet, silk, and satin that should never be washed in water. Wool blankets or bedding made with large amounts of wool will also suffer if washed in water and tumble dried.
Dry Cleaning will not Shrink Your Bedding
Another drawback of using a washer and dryer for bedding is that shrinkage inevitably develops. This is due to the high temperatures required to conduct proper cleaning. The cold water cycle will prevent the bedding from shrinking, but it fails to get the bedding as clean as it should be. Please note that it takes a huge amount of time to dry quilts and blankets. Especially while using the low heat setting on a conventional dryer. Hanging bedding outside to dry on an old-fashioned clothesline can take several days before they are thoroughly dry.  In addition, this could leave bedding vulnerable to dust, mold, and mildew.
Dry Cleaning Cleans Bedding
Dry cleaning cleans the bedding down to fiber level by removing all dirt, dust, and assorted debris as well as removes stains. Home washing machines aren't able to remove all the dirt, grime, stains, skin and must more. The home washing machines normally cannot handle big and bulky bedding – especially in the rinse cycle.
Heavy Blankets, Quilts and Comforters can ruin a home washer and dryer
Blankets, quilts, and comforters are generally too heavy and bulky for traditional home washing machines and dryers to handle on a regular basis. Just one washing can seriously damage a washing machine if a heavy load becomes unbalanced. Many people take their bedding to a laundromat that has commercial washing machines in order to save wear and tear on their own appliances, but this approach has many drawbacks.
Please don't hesitate to contact any of the Bibbentuckers stores for more information on the benefits of using a dry cleaning service for bedding items. We take pride by making our customers delighted with their Dry Cleaning and laundry experience, and our customers keep coming back — because they know we truly care about protecting their valuable bedding and Bibbentuckers is the best cleaners in the Dallas and Fort Worth area.