Wedding Dress Dry Cleaning & Preservation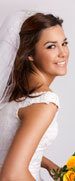 Picture it… The most exciting day of your life has arrived. Your new husband by your side, your friends and family gathered round raising their glasses for a toast to your happiness. Then it happens. Boom! Little Jimmy runs into Aunt Ruth who stumbles and starts to fall. Uncle Frank, in an effort to catch her, spills his red wine all down the front of your dress. The room falls silent, everyone waiting for your reaction.
This is the pinnacle moment. Are you the bride who panics because you have no idea how you are going to deal with this? Do you burst into tears while bridesmaids scatter trying to find that coveted glass of club soda in an attempt to save the dress?
Or…
Are you the bride that simply smiles, knowing that you have it all under control. After all, you have your favorite premier dry cleaner picking up your dress shortly and you know they will clean it thoroughly and then prepare it for storage. Your dreams of preserving your wedding dress are intact because you have Bibbentuckers on your side.
Bibbentuckers provides quality wedding dress cleaning to make the wedding dress like new; so that in years to come it can be considered an heirloom. However, our services don't stop there. We also:
Pick up your dress at the wedding or reception location and deliver to your home (or chosen storage place for the dress).
Provide heirloom and preservation cleaning (your gown is treated with special care and stored to prevent yellowing)
Utilize our specialty wedding gown cleaning service to ensure you have a truly clean dress (not something every dry cleaner can, or should, do).
Bibbentuckers is the chosen dry cleaning and preservation wedding dress service for many brides in the Dallas area. In addition, we are also the preferred vendor for many of the area's top wedding service providers, including:
Brides by Demetrios

– Internationally recognized bridal gown designer.
Bella Flora – Event planner specializing in unique experiences for your wedding with an elite client list that includes The W Hotel, Victory Park, Omni Mandalay, and The Four Seasons Resort.
Rachel Events – wedding event planner with a flair for the unusual.

Circle Park Bridal

– quality collection of bridal gowns and bridesmaids dresses.
These high-quality wedding service providers choose us because they know Bibbentuckers can provide excellence in wedding gown cleaning and preservation. They would not lend us their good name otherwise.
Don't be the bride with stained memories. Include Bibbentuckers on your team of premier wedding service providers. We'll take special care of your dress, so you can enjoy your day no matter what happens.
For more information, check out our website or contact the Bibbentuckers location nearest to you.