Preserving your Wedding Gown
The wedding festivities are over. Now it's time to get your wedding gown cleaned. The question is how do you know who to trust with cleaning and preserving your wedding gown?
Start by finding a premier dry cleaning service that specializes in cleaning and heirlooming wedding gowns. And then ask lots of questions about the process! While we cannot speak to every dry cleaner's process, at Bibbentuckers we give first-class treatment to the cleaning and preserving of your wedding gown. Let me share with you how it works:
Step One – Inspection
Our front counter staff understands the differences in various fabrics and interprets unique care labels. This ensures the cleaning of your wedding gown in the most effective and safe way. After donning gloves we use for handling your dress, we inspect the dress with you to identify stains or damage. We also review typical problem areas, like hemlines and lace.
Step Two – Cleaning
Your dress now goes to our specialty cleaning department. After performing a second visual inspection, our cleaning team will take a black light and examine your wedding dress for hidden stains. Our experts treat any sains or spots by hand to ensure removal. Your wedding gown is then cleaned using high-end equipment that has specific programs for handling your high-end garments. They are gentler, use fewer chemicals and less agitation to ensure your dress is handled with the utmost care.
After cleaning, our team will do another thorough inspection of the dress and perform any touchups that might be needed – by hand. The wedding gown is then ready to be pressed. Based on continual training, our team ensures pressing the dress per the designers' original line and drape of the wedding gown is.
Step Three – Heirlooming & Preservation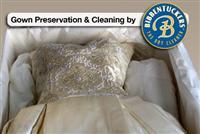 Our expert team only handles your dress using specialty white gloves so that no additional oils or dirt are deposited on your clean, beautifully pressed wedding gown. We never touch it with our hands! Now your gown is looking as good as new and is ready to be preserved.
We use acid-free, museum quality packaging. Every dress is carefully packed away in our high-quality tissue and box. We place the entire box in a bag that is specifically designed to preserve your wedding gown. Now it is ready to be stored.
Final Step – Return Your Wedding Gown
Whether you want us to pick up your gown on the day of your wedding, or you wish to drop it off, we are delighted to take care of it for you. Upon completion of the cleaning and preservation, we can deliver your perfectly packaged wedding gown to your home (a small fee does apply).
Bibbentuckers is a premier dry cleaning service that specializes in cleaning and servicing wedding dresses. During the months of March through June, we will give all our bridal customers our custom heirloom cleaning and preservation for free. That is a $100 value that ensures your dress will be carefully cleaned and stored for the future.
Finally, for more information on our wedding dress cleaning and preservation, please visit our main Weddng Page.